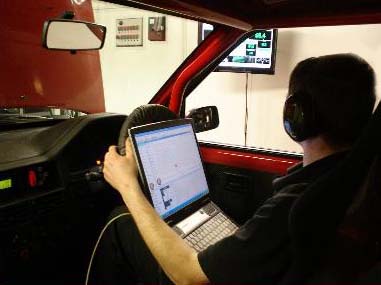 Atspeed Racing use the full potential of the rolling road cell by offering full engine mapping services on professional level mappable engine management systems for both road and race cars, including turbocharged vehicles using world leading tuning software. Due to our commitment to excellence, we are recommended calibration engineers for Omex and MBE engine management systems with Master access level, and are proud of the reputation we have earned ourselves in this competitive field.
For road use we see far too often that other tuners spend far too long concentrating on the "big BHP numbers" and not enough time concentrating on the low speed, light throttle openings, where the majority of driving is done, so normal driving, and fuel consumption is sacrificed, hindering your driving experience. Atspeed maps get the best of both worlds, with careful mapping we take the critical time to ensure the car drives smoothly and efficiently, retaining economical fuel consumption and drivability, and also unleash the maximum possible potential from your engine when you want to use it. 
For motorsport use, we use our years of experience to make sure the engine map is tailor made to the cars intended purposes to ensure the ultimate possible performance on the race track. We have experience in all levels and budgets of motorsport, from grasstrack to endurance and formula racing cars. The fine details we look for and spend the time mapping all add up to faster lap times and race wins. The multiple championship winning results from our customers at all discipline and tiers of motorsports speak for themselves.
Mapping of turbocharged engines is also a speciality, and we can also cater for all complex modern engine control systems and advanced special motorsport features incl. variable cam control, electronic throttle, launch control, traction control, advanced boost control strategies & variable maps & more. 
We are able to map most types of popular aftermarket stand-alone engine management systems such as:
OMEX, MBE, LIFE RACING, SYVECS, LINK, MOTEC, KMS, EMERALD, DTA, ECUMASTER and many more….
If your make of engine management system is not listed then please contact us to check if your system is supported by us.
Please see our Rolling Road page for pricing and booking information.