Omex Throttle Bodies

PLEASE CONTACT US FOR UP TO DATE PRICING ON OMEX THROTTLE BODY KITS DIRECTLY BEFORE PLACING YOUR ORDER 25/5/21 THERE HAVE BEEN PRICE CHANGES WHICH ARE NOT YET ACTIVE ON OUR ONLINE STORE.
Individual Throttle Bodies designed and manufactured in the UK by Omex. Years of thought from one of the most experienced design teams in the industry has led to this, the ultimate throttle body design. What makes them the best? It's all in the details…
Whilst staying within design boundaries set by compatibility with decades of performance engine parts, there was still opportunity for innovation. The latest material finishes for long life, the latest manufacturing methods for consistent accuracy, and detailed design for ease of use. And performance? 15 years of inlet system and engine testing at Omex, and race wins worldwide with our electronics, proves we know about performance!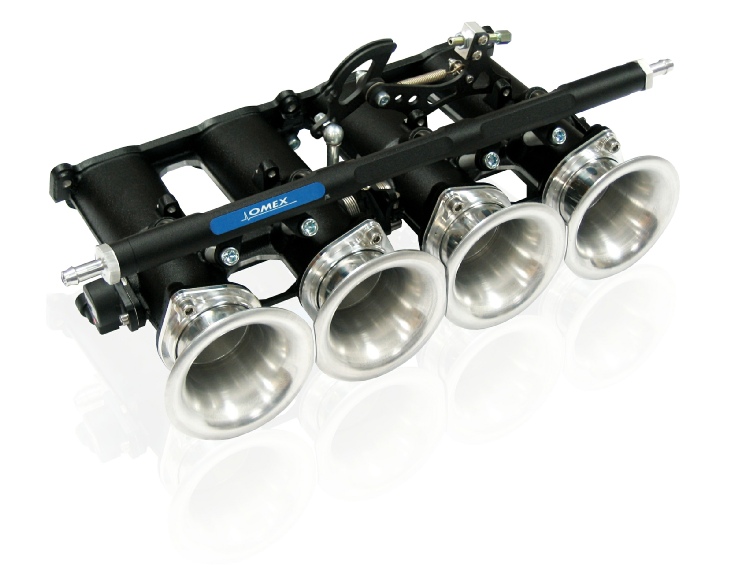 Key Features:
DCOE Pattern or Direct to head options available for common applications
Lightweight, strong and accurate machining
Ease of set up and balance thanks to enhanced tool access
1 Throttle linkage, 4 mounting possibilities! left / right / top / bottom. CNC machined and PTFE coated
Neat Wiring loom mounting points
Relaible throttle position sensor
High volume fuel rail
Options:
Bore size 40/42/45/48/50mm
Air horn length 40/60/80mm
Fuel rail to suit bosch/pico/ford sigma injectors - available in push on or AN fittings

---
Refine Search